"Creating Disaster-Resilience for our Town and District!"
Monday 11 Oct 7pm to 9pm
Darron Honey Centre (rear of Uniting Church), Maroondah Hwy, Healesville
Online registration required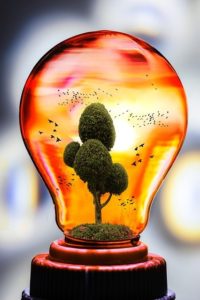 A major bushfire disaster for Healesville is not an 'if' but a 'when'. And when it strikes, there is a strong possibility the electricity supply will be severely disrupted or wiped out. Power poles and wires can be destroyed and in some bushfire areas the towns have been without power for long periods of time. The big question for us is: how will Healesville function without electricity for an extended period of time? How can we create infrastructure to help the community feel as safe and as secure as can be managed in such difficult circumstances?
Registration for this event will open three weeks prior to the event.
Creating a microgrid is one way to establish some energy resilience and security for the town, enabling important services and facilities to continue to function. But what is a microgrid? How does it work? How can the community be involved?
Healesville CoRE has been working with the Directors of Komo Energy (our new technical partners) to develop a realistic pathway towards establishing a microgrid for Healesville using a stepped process, commencing with a small area of the town and building on that over a period of time.
At this event you will learn about how this microgrid can be structured, how it can work, how the whole community can be involved and how community ownership can work. What would a microgrid in Healesville look like and how would we be more resilient and more secure with our own microgrid?
At our June event, we will introduce the concept of the microgrid. At this October event, we will be able to go into further detail about the microgrid plans for the Healesville community.
FREE LIGHT REFRESHMENTS will be available at each face-to-face event
Guest speakers:
Gerald Arends & Jonathan Prendergast – Directors of Komo Energy