"Our Community Solar Electricity and Hot Water Offers Continue into 2021!"
Monday 01 Mar 7pm to 9pm
Darron Honey Centre (rear of Uniting Church), Maroondah Hwy, Healesville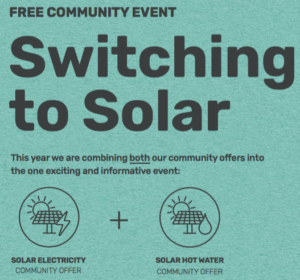 This year we are combining both our community offers into the one exciting and informative event. With many community members already enjoying the benefits and savings of our previous Solar Electricity and Solar Hot Water offers, we are pleased to continue our community offers into 2021.
Did you know that Australia has the highest per capita solar usage in the world? We, at Healesville CoRE, would love to help you join over two and a half million other Australian households reaping the benefits of this fast-growing industry. Not only can rooftop solar help save money on your energy bills, but it can also help to significantly reduce your household's overall carbon footprint.
Come along to this free community evening to discuss all your rooftop solar electricity and solar energy water heating options, so you too can join Healesville's energy revolution.
FREE LIGHT REFRESHMENTS will be available at each face-to-face event
Guest Speakers:
Glen Morris (SolarQuip) – Healesville's own renewable energy guru! Glen is a wealth of expert information on solar electricity and solar hot water systems.
Julian Guess – Julian works in the Sustainability Team at Yarra Ranges Council and will update us on the Solar Saver offer and other Council renewable energy projects.
Jason Parsons from Reclaim Energy – Solar hot water heat pump bulk buy suppliers who will explain the details of the community offer for Healesville and surrounding communities.