Solar Electricity Production and Storage and
Yarra Ranges Council's Community Solar
and Battery Offer
Event Details
THIS IS A FREE COMMUNITY EVENT!
Healesville CoRE invites you to this exciting event to discuss all your
rooftop solar options. We will cover a range of topics, from batteries
and microgrids, to the benefits of participating in our promotion of
the 2020 Yarra Ranges Council Community Solar and Battery Offer.
We are proud to support this new council initiative giving Yarra
Ranges residents and businesses unique access to high quality, fair
priced solar systems installed by a trusted technician.
Monday 2nd March
7.00 pm – 9.00pm
Darron Honey Centre
(at the rear of the Uniting Church),
Maroondah Hwy, Healesville
(opposite Coles)

Light Refreshments will be served.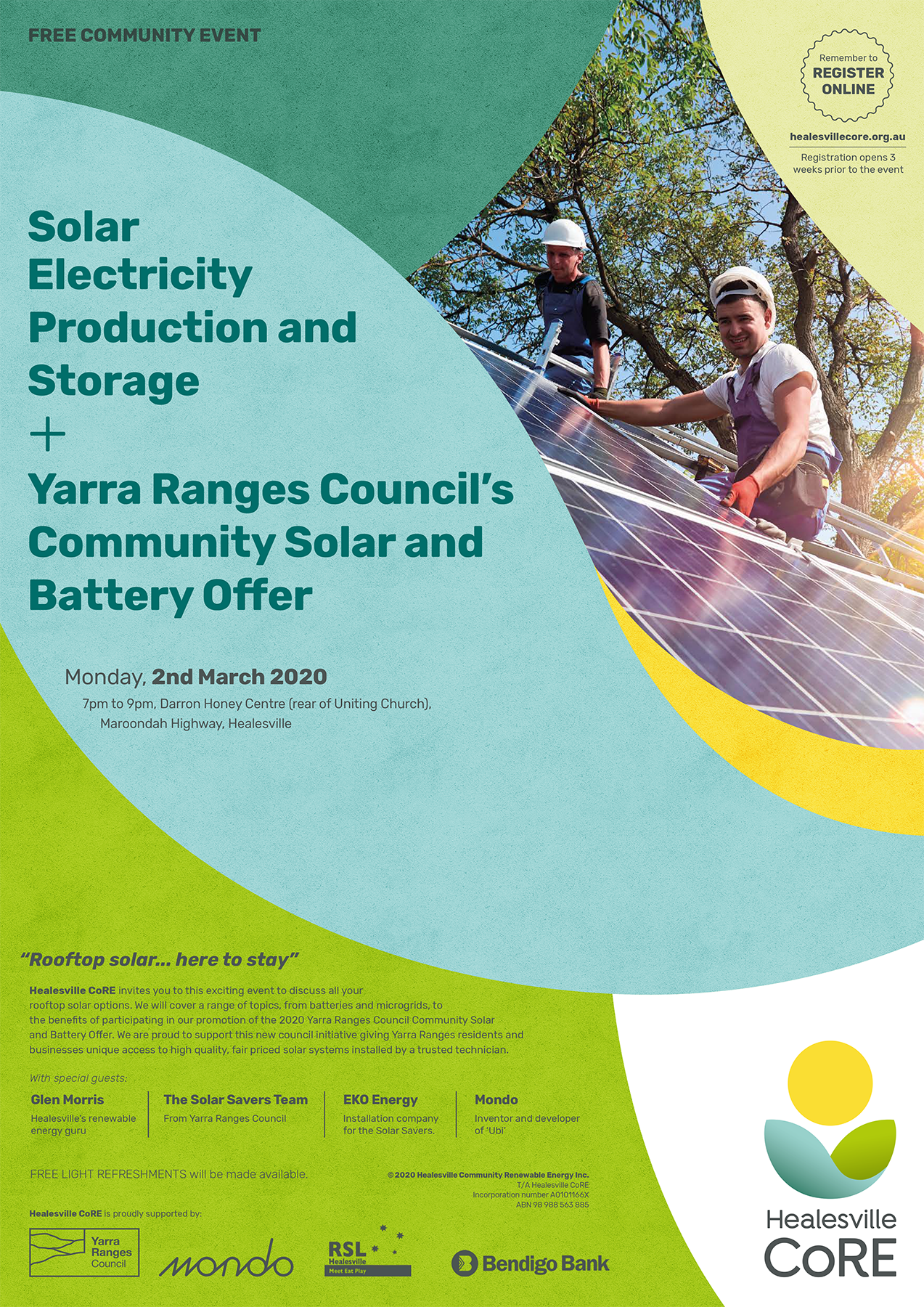 "Rooftop solar… here to stay"
Australia has the highest take-up of rooftop solar power systems anywhere in the world and we at Healesville CoRE want to help you join the two million plus other Aussie household's enjoy the benefits of this revolutionary technology. Not only can rooftop solar help you save heaps on your monthly energy bills, but it can also help to significantly reduce your household's overall carbon footprint.
Guest Speakers:
Glen Morris – Healesville's own renewable energy guru, Glen is a
wealth of expert information on solar electricity and solar hot water
systems.
Yarra Ranges Council's 'Solar Savers' Team.
EKO Energy – Installation company for the Solar Savers.
Mondo – Inventor and developer of Ubi, a network monitoring device
enabling enhanced feedback from solar systems and participation in
a microgrid.