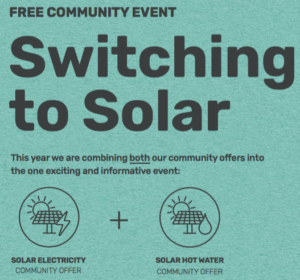 This year we are combining both our community offers into the one exciting and informative event. With many community members already enjoying the benefits and savings of our previous Solar Electricity and Solar Hot Water offers, we are pleased to continue our community offers into 2021.
The event is planned to be run as a face to face event, and we are also now running the event as a live online webinar! We hope that this will make the event more accessible to people in other parts of our fine district. If you dont live in Healesville, or are interested in attended our upcoming event from the comfort of your own home, this is now an option!
The invitation to attend in person remains open, our great line-up of speakers (as detailed below) will be presenting in person at the event for those who want to be part of the live audience. However there will also be cameras rolling in the background capturing the event and streaming it live on Zoom for those who would like to view and participate remotely!
The registration process to attend the online webinar is separate to registering to attend in person,  where .:
TO ATTEND THE ONLINE WEBINAR: REGISTER HERE!
(a link will be provided to you once you register to access the event on the day)
TO ATTEND THE EVENT IN-PERSON: REGISTER HERE!
(you'll benefit from free refreshments served at the event!)
Guest Speakers:
* Glen Morris (SolarQuip) – Healesville's own renewable energy guru! Glen is a wealth of expert information on solar electricity and solar hot water systems and is ready to answer all your burning questions on solar at your home.
* Julian Guess – Julian works in the Sustainability Team at Yarra Ranges Council and will advise us on:
Solar Savers program
Environmental Upgrade Finance for Businesses
Emergency Solar Back-Up for The Memo
Update on the proposed Solar Farm – Community Investment vs Community Co-ownership
* Jason Parsons from Reclaim Energy – Solar hot water heat-pump suppliers who will explain the details of the community offer for Healesville and surrounding communities.