CLICK HERE TO DOWNLOAD OR VIEW OUR PROGRAM OF EVENTS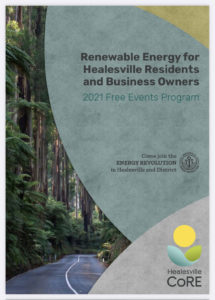 Throughout 2021, Healesville CoRE will be holding its 4th series of free community events.
Please note that this program is subject to change due to Covid-19 restrictions. We are committed to run our events as face to face meetings in line with health guidance.
Please stay tuned for email updates and check each event on our website HERE for further information.
Subscibe to our mailing list HERE and get event reminders and newsletters sent directly to your inbox.
The goal of our events is to assist community members to better understand and more deeply engage with community based renewable energy power generation, methods to improve the energy efficiency of their homes and businesses, and to inform and advise on future community based renewable energy projects.
More specifically, these events focus on improving community awareness and knowledge on a range of topics, including: domestic solar panel installations, heat pump and solar based hot water systems, off grid solar battery storage, smart monitoring systems, small to medium scale solar farms, microgrids, energy optimisation products for homes and businesses, community owned energy systems / the Local Power Plan, and electric vehicles. Check out the full list of events on our website HERE!
Healesville CoRE is committed to reducing our community's reliance on fossil fuel generated power whilst simultaneously saving our community members money on their energy costs.
FREE LIGHT REFRESHMENTS will be available at each event (if held at a venue rather than online).
Online registration is free, and will open 3 weeks prior to the date of each event on our event page on our website.