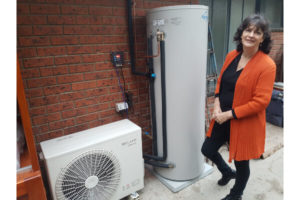 Karen & Ron Roberts' Experience with their Reclaim Heat Pump
In August 2019 Healesville CoRE members Karen and Ron Roberts decided to take advantage of the Solar Hot Water & Heat Pump offer by purchasing an Apricus CO2 Heat Pump from Reclaim Energy. They already had a 3.5kw solar system with 14 panels installed a few years earlier, and although this certainly reduced their power bill, they knew their old electric water unit was chewing through the kilowatts and needed replacing.
The figures are:
Cost of unit                              $3520
Installation                              $1262 (Plumbing and electrician)
TOTAL                                     $4,782
Less Federal rebate                 $1732 (STC $1156 and VEEC $576)
Less State rebate                    $1000
Total out of pocket cost        $2050
The graph below tells the story, look at the July total compared to the August one! As you can see, the peak usage remains fairly constant, but the off peak usage drops dramatically and then remains quite low. They believe this is because the old unit used to heat up during the off peak portion. The new one only heats up once a day for 2 hours from 10am till 12 noon which will be changed in the winter to maximize the suns effect on the solar panels.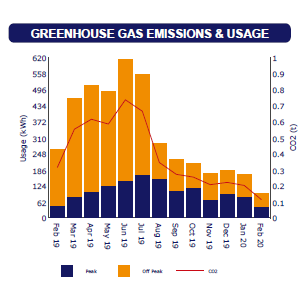 Karen and Ron are with Tango and their feed in tariff rate was 11.3c until June, and 12c from July until now. Their power bill averaged at $103.45 per month from March to August 2019, then after the heat pump installation dropped to an average of $43.20 per month from September 2019 to February 2020. These figures may have to be adjusted slightly because we need to take into consideration the days were longer and warmer after the heat pump was installed, but they calculate that they will still be saving about $700 a year ($7,000 over 10 years), which means that the heat pump will pay for itself after about three years. Not a bad investment!
Healesville CoRE are continuing their Hot Water Community Offer in 2021!
Come to our next event called 'Switching to Solar' on the 1st of March 2021 to learn more!!!