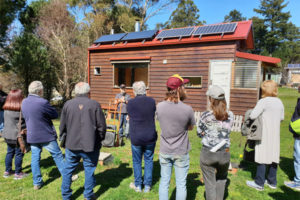 Great success for our solar energy event with Glen Morris at his Lab at Moora Moora on 14 September 2019.
On Saturday, 14 September, Healesville CoRE held an information and solar equipment 'show and tell' event at Moora Moora Co-op on Mount Toolebewong at the Workshop, Training centre and Lab of Glen Morris.
The weather was perfect with sun and bright blue skies, which gave the event guide and solar technology Guru, Glen Morris, the chance to hold most of the demonstration tour in the open. Attendees were introduced to various pieces of equipment in live operation on trailers, on roofs and on a "tiny" house. We even saw in operation the micro grid of one group of houses!!
Glen tests the latest products coming on the market and his laboratory is full of inverters and batteries in operation. He explored the history and the workings of the wide range of equipment on site in his clear, friendly and engaging way to the 35 people attending the event. A great success according to all in attendance! And what a treat to see a piece of equipment that can produce clean water from air!